Welcome to my website. It´s for people who are looking for more options in their lives. I was made for serve, work, eat, drink and consume. Until a stranger showed me, there is more in life, that the hamster wheel. And after that, the true story began.
Why I am here?
My journey was very long. I took the usually way. University, study to doctor, surgeon consultant, then Urologist, Dr. title. This is, what the systems teach us. Learn a good job, work for 40 Years and retire rich. t´s a myth my friend, I´m sure Your know that. In the long run this was the old model. Definitely my parents and my school-education told me.
So I followed. I became a doctor, consultant, chief officer consultant and then I owned my doctor´s office as a Urologist. Start working for my own wealth. Every step I took: more money, more responsibility, bigger desks. But then follows better lifestyle, bigger car, bigger house bigger vacations and of course more expenses, which leaded to more debts. I call this devil´s vortex and it works fine.
It took me a lot of time, than the old model of personal economics I´ve learned, don´t work in our days. I learned a lot of businesses, educated myself to become an entrepreneur. A hard way, but it was 100% worth. My main business (doctors office) worked better and better and better, applying some things I learned.
In hundreds of books, dozens of seminars, workshops and courses, I learned to become more and more an entrepreneur and how to generate multiple income streams. This was the time, when I started with online marketing.
It´s Your Obligation to give back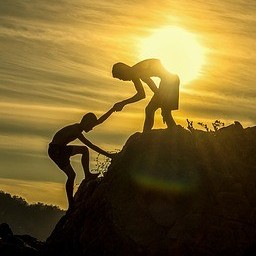 One of the things I learned is this: once You get something useful and have advantage of than, it´s fair to give back. It´s the law of nature.
Most of us are growing in the hamster wheel system, as I do. I found a good tool to escape, through my journey of personal development. And it's my obligation to give back this information.
I will help as many people as possible to escape from their hamster wheel, to become FREE. To make up their minds, to open them for more.
While I have made this journey I know were You are standing at the moment. I know the reasons, why stock. I can understand the situation, because I was exactly on the same place. So I can pick You up and show You the path. I learned, than one of the most important things is to give back. No matter if it is money, to support children in places which people are very poor. Or do something for the environment we live. And one thing is to give back the knowledge You get, so other people can use it.
The Goal of my Site is…
…to inspire You. If You will get to Your dreams, the first thing is to find a mentor. After than get the right vehicle to Your freedom.
Finally, if You want a pool of mentors (these are people, who are there, were You will go to) and choose one who fits to You. If You will a supersonic aircraft, to bring You to the place were You want to go, then I have good news for You:
You are at the right time at the right place.
Step into the most amazing platform in the internet.
Have a free trial.You will learn amazing things,You will have a lot of fun. Try out WA, the best internet platform for starting up your online business.
If you ever need a hand or have any questions, feel free to leave them below and I will be more that happy to help you out.
All the best,
Evangelos